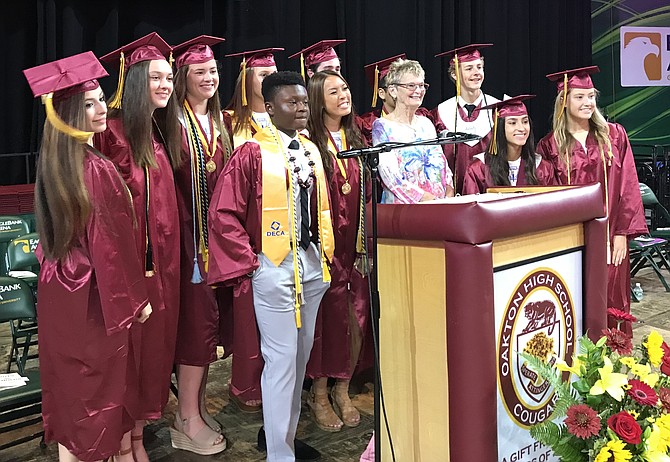 June 6 was a special day for the community of Oakton High School. Students were accompanied by teachers, friends, family, administrators and distinguished guests at the Fifty-first Commencement Exercises of the school. Almost 670 young adults attended the ceremony wearing burgundy caps and gowns at the George Mason University EagleBank Arena. All of them were ready to start their next big adventure.
Gabriella Shapo was chosen to present the Student Address before the Commencement Exercises started. The theme of her address was "Individual responsibility for the collective good." She shared the most important lessons that she learned at Oakton High School.
According to the Vienna Connection, "PRINCIPAL Jamie S. Lane announced the recipient of the highest and most prestigious award bestowed upon a graduating senior, the 2019 Faculty Award given to a student who selflessly and generously contributed to the Oakton High School community throughout his or her tenure. Lane said, "She has grown from a shy, nervous freshman into an independent, thoughtful graduate… positive and uplifting to her classmates and teammates and pushes herself and others to achieve that which seems beyond reach. I am honored to present the 2019 Faculty Award to Carolyn Qu."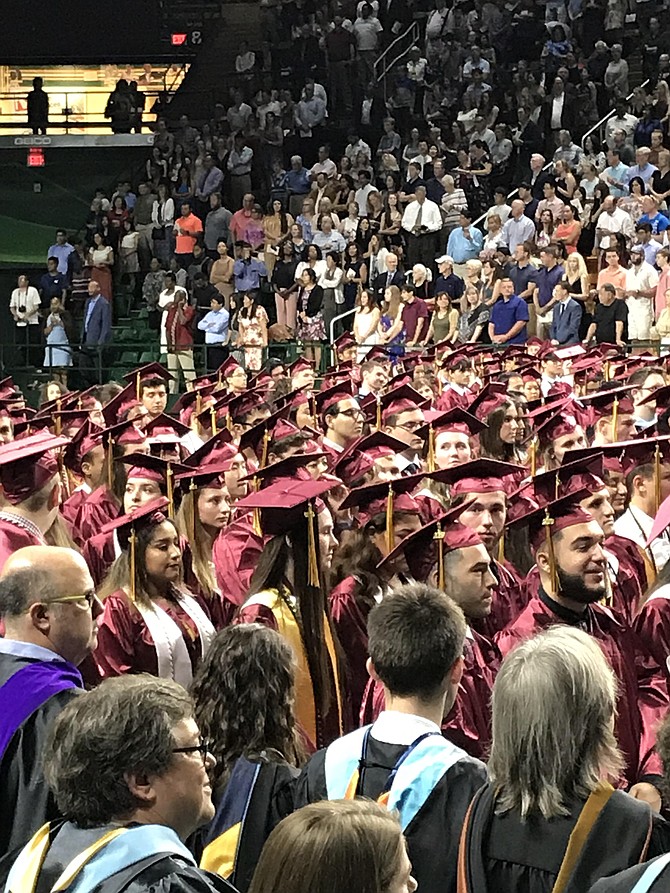 Kelsey Brooks introduced guest speaker, Sandy Reynolds, a longtime member of the Fairfax County Public Schools and Oakton High School community who, Brooks described, worked "tirelessly through her career to create and grow a culture of equality." In her remarks, Reynolds said, "My ultimate goal was to make Oakton High School the best in the county with the happiest and most productive students. Happy kids; happy classroom."
Kelly Butterfield was announced as the winner of the Class of 2019 Teacher Award. The Senior Tribute was presented to the graduating class by the Oakton High School Singers.
As per the Vienna Connection, "Afterward, Jennifer Hogan, Director of Student Services, thanked all for joining to honor the Oakton High School Class of 2019 and addressed Principal Lane for the words all awaited. "I certify that the members of the Senior Class of 2019 have met the requirements established by the Commonwealth of Virginia and Fairfax County School Board. I declare them eligible for graduation from Oakton High School."
Properties in Oakton
See more in Oakton