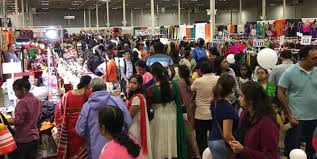 Each year, F&A Entertainment presents the largest Chand Raat Mela in Northern Virginia. Chand Raat Mela is a traditional festivity that marks the end of fasting month of Ramadan. The festival is an opportunity for families to get together, do Eid shopping and eat delicious foods from a variety of food stalls. The festival is open to everyone.
The community groups, individuals, and business community place variety of stalls containing promotions of business, services, handicrafts, clothes, jewelry, henna, shoes, toys and a large variety of ethnic food and services to thousands of attendees. The festival also provides children with amusements, designer fashion show, and live artist performances. Chand Raat Mela, being a non-alcoholic family event, provides a fantastic opportunity to families and youth to enjoy wonderful amusements, entertainment activities and delicious variety of foods. You can bring as many friends & family as possible to make the pre-Eid festival evening even more delightful and memorable.
Thousands of people gather at the Dulles Expo Center annually for a multicultural celebration as the holy month of Ramadan comes to an end. This year this festival will be held on 3 and 4 June from 7 pm to 2 am.
The Chand Raat Mela invites Northern Virginia residents of all ages to commemorate the conclusion of the 30-day dawn to the sunset fasting period. The family-friendly event features a variety of traditional foods and more than 200 exhibitors.
The 30 day fasting period leads up to Eid al Fitr which will be celebrated on Wednesday.
Properties in Chantilly
See more in Chantilly