Hidden Oaks Nature Center is nestled inside the 52-acre Annandale District Park in Annandale, Fairfax County. You'll find live animal displays, exhibits, a pond, creeks, woodland trails, gardens, play areas, a resource library, and a rain garden in Hidden Oaks Nature Center.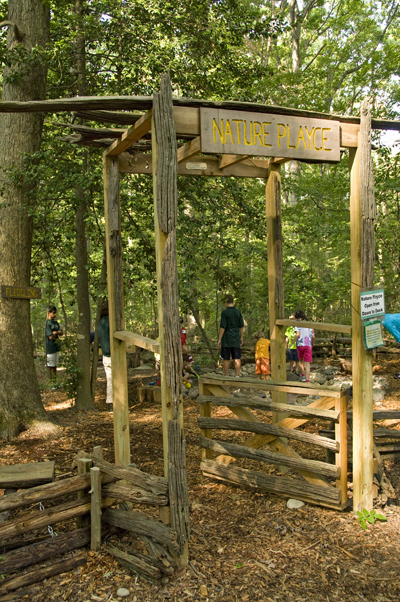 Hidden Oaks Conservation area ensures that visitors of all ages and backgrounds have opportunities to connect with nature. Through interactive exhibits and hands-on activities, Hidden Oaks Nature Center inspires curiosity and exploration of the natural world in guests of all ages. Whether hitting the trails with a self-guided Discovery Pack, registering for innovative nature programs, coming out for a special event or joining our summer/winter camps, there's something for everyone at Hidden Oaks.
The Hidden Oaks Nature Center has exhibits about wildlife, tanks with live toads, snakes, and turtles, and a touch table with bones, rocks, and other artifacts. Kids can borrow a discovery bag, which has a trail map and activities to do along your 1/4 mile hike.
Visitor Center
The Hidden Oaks Nature Center, which doubles as a visitor center, is a busy place. During open hours, a naturalist is on hand to provide information about the center and Annandale Community Park. The exhibit area in the building features live animals and hands-on discovery experience for youngsters. There's an auditorium used for public programming. It can be rented for birthday parties and other similar group events.
There are restrooms and a small gift shop area with guide books and toys. The area immediately surrounding the center is full of fun, learning opportunities. There's a rain garden in the parking lot, a butterfly bench for photos, and a small pond that attracts wildlife.
Nature Playce
Nature Playce is a 1/3-acre, unstructured, woodland play area near the Hidden Oaks Nature Center. It is a perfect place to introduce young children, or even yourself, to the wonders of nature. It's an opportunity for kids to just go outside and play in the woods, make mud pies, dig into woodchip and leaf piles, make ground forts, or just rest next to a tree and watch clouds float past.
Old Oak Trail
The Old Oak Trail, a loop wood chipped path with a gentle incline, is just under 1/2 mile. This trail is great for families, for at each of ten posts, visitors are challenged to identify an animal track. Families with young children may borrow from the nature center a seasonally appropriate Discovery Bag with trail activities, or a pictorial scavenger hunt for young children. For all ages, pick up a seasonal trail guide by the front door. Follow the orange blazes on the posts for the Old Oak Trail. Follow the blue blazes for a longer and steeper walk to loop over the creek. This path is about 1 mile. In total the connected paths are just over 2 miles in length.
Properties in Annandale
See more in Annandale