My colleagues in Hawaii and Florida and even in Jackson Hole or Las Vegas love to post pictures that make me drool with envy. Stunning beaches, snow-capped mountains and striking desert oasis condos we do not have in the Washington Metro Area, but we do have access to our national capital. And every four years we have access to history of a different sort, when our nation installs a President. Several of my friends in Northern Virginia made the trek to witness President Obama's swearing in. For most folks it started at 6 am at the Metro.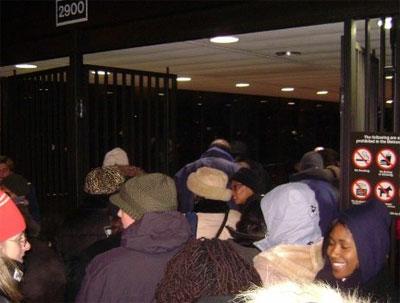 Even at 6 am the line to get on the train was long. For those who were lucky enough to get a seat on the first train, there was a wait for a half-hour or more before the train was underway. When the trains arrived, you began to get an idea of just how big a number 2 million is.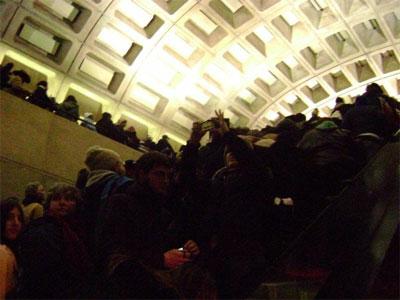 The crowd was pleasant, but the numbers were overwhelming. It took 45 minutes just to get out of the station.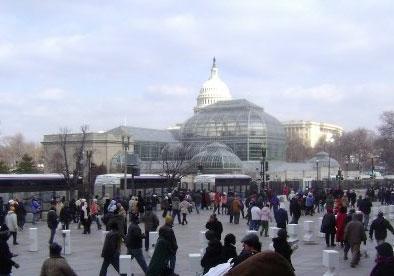 Top side was like a jail break, as people were glad to finally see the light of day.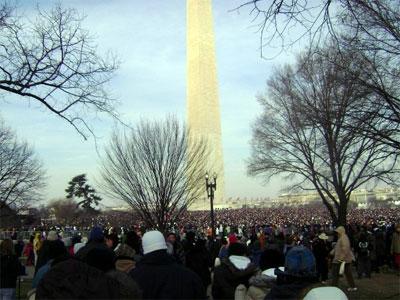 The masses of people were staggering, even if they were dwarfed by the touchstones of democracy like the Washington Monument.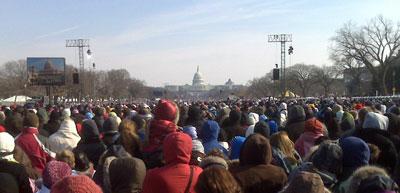 This was one of the better view spots open to the public on Inauguration day.  In this picture, Obama is about a quarter of a pixel high, so it's a little tough to make out his expression.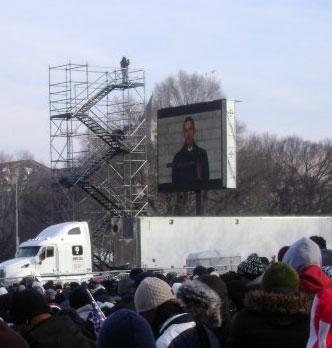 But the Jumbotron was there if you needed to see what was happening.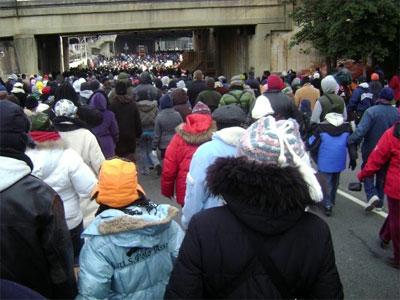 Then at the end of the day, it's a walk back to the Metro.  Small price to pay to be a witness to history.
At noon on Tuesday, January 20, 2009, Barack H. Obama will be sworn in on the steps of the Capitol as the 56th President of the United States of America. The City of Alexandria is expecting a record number of visitors, and preparations are underway for our guests and friends.
Jumbotron in Market Square
At the heart of Old Town is Market Square. Market Square is at the City Hall building, 301 King St. It is a brick courtyard and gathering point for city residents. The Presidential swearing-in ceremony and parade will be on Jumbotron (a giant TV) live on Inauguration Day at Market Square from 11 a.m. to 6 p.m.
Area Road Closures and Bridge Restrictions
The City of Alexandria states: "Road and bridge closures and security restrictions around the U.S. Capitol and the Inauguration parade route will make traveling by car directly from Northern Virginia to Washington, DC impossible beginning at 2 a.m. on January 20. The City urges residents---whether attending the Inauguration, going to work, or staying in Alexandria---to make plans and stay informed." So far, the road closures and bridge restrictions generally begin at 2 AM on Tuesday January 20th (early on Inauguration Day). At around that time, personal vehicles will not be allowed to enter Washington from Northern Virginia. Residents and visitors in Northern Virginia are urged to take public transit to the Inauguration activities. If you insist on driving, drivers will only be able to enter Washington by driving in from designated Maryland routes. Road closures and detours:
Traffic on I-395 traffic heading toward Washington will be diverted at the Springfield interchange (exits 170B and 170C) onto 1-495 North (Inner Loop) or I-495/95 East (Outer Loop). Southbound 395 remain open to traffic.
The 14th Street Bridge, Roosevelt Bridge, and Key Bridge will be closed to general traffic. Only authorized vehicles will be allowed to cross these bridges. The Memorial Bridge and the Chain Bridge will be open to pedestrians only.
North Washington Street at Montgomery Street to Reagan National Airport will be closed.
The George Washington Memorial Parkway will be closed in both directions from I-495 to the 14th Street Bridge.
I-95/395 HOV Schedule
HOV on I-95/395 will begin at 3 AM, after 5 AM only buses and authorized vehicles will be permitted to use the I-95/395 HOV lanes from Route 234/Dumfries to Washington. The HOV lanes will reverse at 8 PM with restrictions lasting until 9 pm or later.
Metro and VRE on Inauguration
As federal, state and local agencies continue to develop plans for the Inauguration, information on road closures may change. Please check this page for updates. Alexandria VA and Washington DC are expecting record turnouts for the 46th Presidential Inauguration. The public is urged to use public transportation and to arrive early. The best way into Washington DC from Northern Virginia and Alexandria on Inauguration Day will be
Metrorail
and
Virginia Railway Express
. Metro claims they will have public parking spaces available at all Northern Virginia Metro stations. It will be interesting to see how this is accomplished at some stations. For travel around the area on Inauguration Day, Metro is probably a good choice. To plan your trip via the Metrobus or Metrorail, use Metro's Trip Planner; for bus travel within Alexandria, visit the
Alexandria Transit Company (DASH)
system, or ride the
Free King Street Trolley
, which runs from the Metrorail King Street Station to the City's Waterfront. For more detailed information please check the Secret Service Announces Security Information for the 2009 Presidential Inaugural (PDF) For more travel options to, and within Washington, D.C., and other important information, please check out
CarlyleDistrict.com
.
Walking
Persons walking from to the Inauguration from Alexandria have a number of options, including the
Mount Vernon Trail
. A less hearty walk would start at Arlington National Cemetary. You may wish to Metro to Arlington National Cemetary and walk the Memorial Bridge into DC. WMATA has produced and provided a commemorative walking guide and map.
Bicycling
The Washington Area Bicycle Association (WABA) will be operating two free bicycle valet parking areas on January 20, including one at the Jefferson Memorial. Visit WABA for more information including maps, bike rental information and valet tips. The City of Alexandria's
Online Bike Map
can prove useful as can the
Regional Bike Path Route-Finder
.
Bicycles will not be allowed on Metrorail all weekend long, beginning Saturday, January 17th.
Bicycles
will
be allowed on MetroBus throughout the Inaugural weekend.
Alexandria Events
Here's a list of other Alexandria Inauguration events.